WHAT ARE THE EVENT AND ATTRACTION OPENING TIMES?
Read full details HERE.
WHAT DOES AN 'INTAKE PERIOD' MEAN?
This is the time period that you need to arrive at/enter the event.
There are limited numbers per night for each intake.
You may not enter the site until your intake period.
Intakes are open for 30 minutes. Please make sure you arrive before your intake period closes. 
We reserve the right to refuse admission if you arrive after your intake period has closed. 
HOW DO I DOWNLOAD THE PHOTOS I PURCHASED?
If you purchase a souvenir photograph you can download it for free!  Wait 24hrs for them to upload then follow this link and type in the code printed on the photos http://avonvalley.phototouchinc.com/
HOW DO I BUY TICKETS AND ARE THEY REFUNDABLE?
You can buy tickets via our website. See our tickets page for more information about dates and prices. Tickets are non transferable and non-refundable.
I BOUGHT AN EARLY BIRD TICKET, WHEN CAN I VISIT?
You can visit any night we are open, and you can enter within any "intake period."
ENTRY AND SECURITY
FEAR at Avon Valley Scream Park has an onsite security team. All bags will be searched before entry into the event and random spot checks will be in operation throughout the night.
CAN I DRESS UP AT THE EVENT?
While fancy dress is encouraged at the FEAR event, full or half face masks, offensive costumes or costume props will not be allowed into the event.
In order to enter the attractions: all hoods must be removed for the safety of the actors.
WHAT WILL MY STANDARD FEAR PASS TICKET GET ME INTO?
Your FEAR PASS ticket will allow you one entry into all five of the attractions.
Should you wish to experience the attractions again, re-entry tickets are for sale in the Box Office at a discounted rate, subject to availability.
The ticket does not include KillZone or the additional fair rides.
WILL I HAVE ENOUGH TIME TO DO ALL THE ATTRACTIONS?
We have screens advising of queue line times around the event site, please monitor these to help you move around the mazes quickly.  We have street theatre, food stalls, bars and our famous fire show to enjoy so make the most of your night.  Enjoy a drink, but don't waste time at the bar!  You are here to be scared, you can enjoy a sit down and a chat with your mates at the pub afterwards.
ARE THE ATTRACTIONS SCARY?
The attractions are designed to scare you. FEAR has issued an advisory rating of 12A on all 5 scare mazes.
WHAT AGE IS APPROPRIATE FOR THE ATTRACTIONS?
This event is not advisable for children under the age of 12 years old. Children under the age of 16 must be accompanied by an adult (over 18) at all times. This includes entry into each attraction. If you feel you do not want to go into the attractions we suggest you send under 16's with an adult that will go through. ALL CHILDREN AGED 16-18 WILL REQUIRE A FORM OF ID.

WILL THE ACTORS TOUCH ME?
The actors inside the attractions may touch you, but at the same time you are not permitted to touch them. For your safety, guidelines are clearly signposted at the entrance to each attraction stating the House Rules; by entering the queue line you are agreeing to these terms and conditions. Failure to adhere to them will result in removal from the Event.
WHAT SPECIAL EFFECTS DO YOU USE?
The attractions all feature the use of flashing lights, strobe lighting, smoke effects, smells, and loud sounds. You may also experience elements of complete darkness and tight spaces within the attractions.

IF I GET SCARED, CAN I GET OUT?
Once you enter any of the attractions you are committed to following through to the end. It is only in extreme circumstances that you will be taken out early. However, if you are a scaredy cat you can purchase a scaredy cat light from the maze hosts for £1. This will mean the monsters keep their distance from you.

PROHIBITED ITEMS INSIDE THE ATTRACTIONS.
Flashlights or mobile phones, used as torches, or deemed filming. or using photography within the mazes will be removed and returned at the end. Failure to adhere to these rules will spoil the experience for everyone involved and could result in your removal from the event site.
ARE FOOD AND DRINK AVAILABLE?
Yes, from smoked brisket rolls to vegan delights, there will be a variety of food stalls, along with coffee and confectionery stands across the site available all night.
We also have FRANK'S bar serving a selection of draught beers and selected spirits. Please note that Challenge 25 will be in operation.
IS THERE AN ATM AT THE PARK / DO YOU ACCEPT CASH?
No. The site is cashless and only card payments are accepted
ALCOHOL
Alcoholic beverages will be sold on site and must be consumed within the designated areas. You must be 18 or over to purchase alcohol and we will be running the Challenge 25 scheme. It is strictly prohibited to bring your own alcohol into the event, and anyone found doing so will be escorted out of the park with no refunds.  Drink sensibly, we reserve the right to remove anyone from a scare maze and/or event if we deem then at risk of endangering themselves or others.
ARE YOU WHEELCHAIR FRIENDLY?
The site is wheelchair accessible however may not be friendly due to its gravel.
The scare attractions and KillZone are NOT wheelchair accessible.
The scare mazes/attractions at FEAR Avon Valley may be physically demanding and due to the nature of the event unsuitable for visitors with additional needs. For this reason we reserve the right to refuse admission to any attraction should we feel there may be a danger to an individual or others during either normal operation or in the event of emergency procedures. We hope that visitors accept any decision made with regard to preserving the safety of all of our guests. Please note that the provision of any discounts or additional access facilities is provided at the discretion of FEAR Avon Valley.

Read our accessibility details HERE.
WILL I GET WET?
Due to the nature of the event being outside, it is advised to bring suitable clothing and footwear. There are several undercover areas, however some of the attractions have outdoor sections that are open to the elements.
DO CARERS GO FREE?
Please read our Accessibility page which includes details about Carer's Tickets HERE.

IS THIS EVENT SUITABLE FOR ME?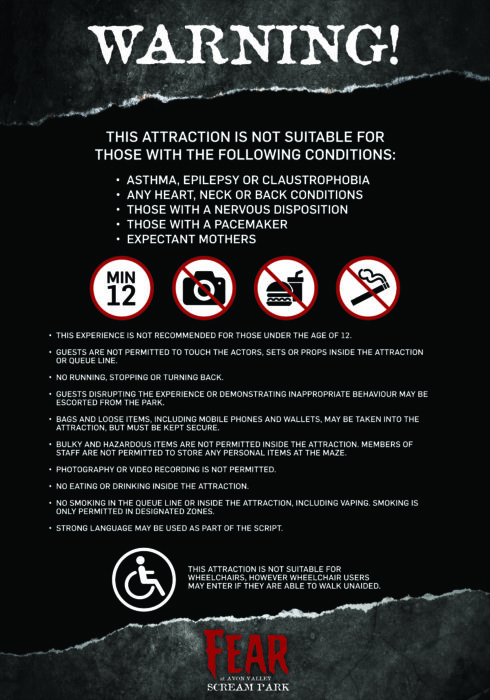 TRAVEL OPTIONS:
By Car
The park is easily accessible by car and is situated just off the main A4 between Bath and Bristol. FREE Hardstanding parking is available on site.
From Bristol: coming from Bristol the park is just after the Keynsham bypass.  When you re-join the single carriageway look for the brown signs directing you to take the left turn for Avon Valley Adventure & Wildlife Park.
From Bath: coming from Bath go through Saltford and you'll see signs for the park as you approach Keynsham.

Public Transport – the X39 Bus runs every 20min from Bath or Bristol Bus Station for more info click her https://bustimes.org/services/x39-bath-bus-stn-newbridge-rd-saltford-brislington
Keynsham Train Station is also only a short taxi ride away.